Schoolyard Naturalization
Schoolyard naturalization is the process of using local plant material to create an area of structural and botanical diversity within the grounds of a school for educational, social and environmental benefits.
Compared to typical turf-based schoolyards, native plant and vegetable gardens encourage student creativity, stimulate senses, provide natural encounters with local wildlife, and can shelter students from the elements.
Why native plants?
Native plants, plants indigenous to the area and grown within a 50 – 100 km radius, are low maintenance and more attractive to local wildlife including small insects or mammals. They also provide a way to connect students to local history and ecology.
Why vegetable gardens?
Vegetable gardens help students develop healthy eating habits and provide them with an opportunity to try new fresh foods. They can also discover food sources and learn how different plants grow and the dedicated work required to produce a meal.
Get started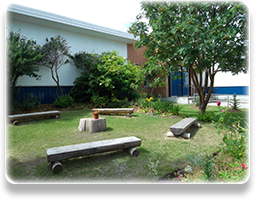 Discover benefits realized through the naturalization of school grounds and food gardening projects and learn how to provide support in creating, maintaining, and using these spaces.
Download the manual below to learn more about the steps to success in creating an outdoor space at your own school!
This manual outlines our process for successful schoolyard naturalization. An examination of the benefits and the process is provided using examples of Calgary-area schools, students and stakeholders.
Benefits of schoolyard naturalization:
Educational
Instant field trip
Diverse landscape for hands-on, cross-curricular learning
Material for scientific observations
Location, materials and inspiration for art, drama and language arts activities
Participation in real-life decision-making
Awareness of healthy eating and nutrition
Study of plant life cycles and adaptions to the local environment
Environmental
Improved aesthetics
Increased biodiversity
Increased habitat for local wildlife and insects
Reduction of air and noise pollution
Source of shade, UV protection, wind block
Improved water and soil retention
Reduced soil compaction
Opportunity to reduce reliance on pesticides and herbicides
Social
Opportunities for safer, more creative and spontaneous play
Reduction of anti-social behaviour on school grounds
Increased student ownership and pride in their school
Growing sense of community within the school and the surrounding area through volunteer help, summer maintenance and the sharing of rewards
Lessons in cooperation and teamwork
Sense of achievement as students watch their own plants grow
Gained appreciation of Agricultural businesses
Opportunities for urban-based families to interact with local ecosystems
Appreciation for the neeeds of all life and the interconnectedness of the world
Promotion of environmentally friendly gardening practices and techniques
Completed Projects
Banff Trail
The Banff Trail's "Le Circle Vert" and " La Route à Banff" have become home to over 400 native and hardy plants, including 58 trees! Banff Trail's naturalization project includes an amphitheater (pictured) and an interpretive trail that represents different Western Canadian biomes from the Prairie Grassland to the Rocky Mountain. Students from the school participated in contributing to the plans for the area and assisted in planting the shrubs and perennials. Banff Trail's schoolyard is now pesticide-free, one of the first in the Calgary Board of Education!
Wildwood
"Wild Woods" -Wildwood School's naturalization project – has grown to be a flourishing space of native flowers and trees, including the provincial Lodge Pole Pine and Wild Rose. Their vegetable gardens, composts, pathways, and forest offer students many places to learn and play. In an area approximately 45 m x 25 m, students enjoy planting vegetable and flower plugs and maintaining the space during Wild about Weeding program days.
Andrew Sibbald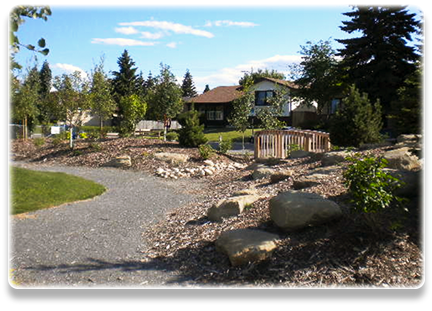 Andrew Sibbald's "Learning Grounds" began is now home to over 80 native trees and shrubs, including those with striking winter colour like the red osier dogwood and flame willow. Their many different plant species provide excellent teaching material for ethnobotanical studies. A bridge (photographed) overtop a dry riverbed allows the school to enjoy the feel of a wetland space without the challenge of maintaining and supervising a real water feature.
Olympic Heights
Olympic Heights has had great success in developing a space that is used by their whole community. Other nearby schools and adult community members often use the space for working on group projects or to host meetings. From a schoolyard that began as mostly dead grass, the space has transformed into a thriving environment with healthy indigenous plants, including a "native plant park", "west garden", "prairie circle" and "trembling aspen forest". Students of the school worked hard to help create the space, becoming very dirty and thrilled of such during the process. The students' "green leadership" is seen from the schoolyard to the inside of their classrooms through composting, recycling, and energy savers. The school does a great job of incorporating sustainable living into their teaching and teachers focus on using the space as a way of meeting the curriculum goals differently rather than thinking of the space as an add-on to their busy schedules. Some of the special features of the outdoor space at Olympic Heights are a wind turbine (photographed) and solar panels.
Alex Ferguson
Alex Ferguson's "Raingarden" is available to all with a handicap accessible design. Students of the school use the space for poetry and school project presentations. The "Raingarden" reflects the school's belief that "learning should be joyous, active and meaningful" and is used by both students and community members. Their school mural, located in the naturalization area, was painted by a local Calgary artist and compliments the school's strong arts program.
Alternative High School
Alternative High school built raised vegetable garden beds. Along with the occasional tasty treat, these 44 beds allow for discussions of sustainable farming, food origins, food production, and plant requirements. Vegetable beds can be a lot of work (higher watering needs than native plant gardens) but are excellent teaching tools for both elementary and high school classrooms. These beds are an especially great option for students who benefit from hands-on outdoor learning and are just one of the features that make Alternative High a special place for students
Questions?
The resources on this page can be applied to any school around the world! We are happy to help you use the resources to their full potential. Please contact Community.Investment@Nutrien.com for questions or more information.